Bike Rental
The organizing team has 45 bikes available for rent. The price is € 60 for the whole week or € 10 per day to be payed up front.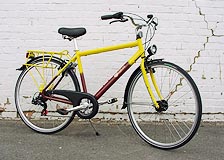 Bikes can be picked up at the campus starting Saturday morning. Those staying in hostel Roosendael can rent a bike starting Friday evening at the hostel. Please ask the Roosendael concierge about this.
Bikes have to be returned at the campus by Friday evening or at hostel Roosendael by Saturday the 16th at 10:00.
Please note that because of the rather limited amount of bikes available to use we prefer to rent these to people without other means of transportation. This means people staying in hostel Roosendael or someone staying in a hotel far from one of the train stations.
Other Bike Rental
You can also get bikes at Sociale Werkplaats 't Atelier. They are located at Donkerlei 72, Mechelen. You can rent bikes at the same cost (€ 60 for the whole week) if you mention that you are an Akademy participant.
Busses that stop nearby Sociale Werkplaats 't Atelier are:
3, 550, 558 stop at "M. Sabbestraat"
5, 7 at "Kerkhoflei"
Or see the website of the tourism office for other addresses.
Touristic Bike Trips
On the website of the tourism office you can find more info about cycle routes, both by numbers and based on signpost along the road.