R&D: Getting Hackers Laid
Speaker: Paul Adams
Success is attractive. How else can you explain the salacious sex lives common amongst British politicians? Isn't it about time that KDE hackers got some more of that action, too? And there's no reason why not. For success in Free Software is evident in the quality of the product. The fact is, however, that we are not all reseachers. We don't all have millions of euros in tax-payer's cash to spend on research to expose that quality.... And that's because it's not needed, the quality is self-evident.
In this talk I will present a series of small tests and experiments that KDE developers can do for themselves in order to make judgements on the quality of their software. To make it better. To make themselves irresistable.
Paul Adams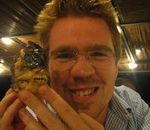 I'm Paul Adams. You may remmeber me from such presentations as: * "SQO-OSS: Software Quality Observatory for Open Source Software" at aKademy 2007 * "R&D: An Accomplice to Killing the IMP" at the KDE 4 Release Event
I am part of the KDE Research Team and Head of Research and Development at Sirius Corporation where I spend European tax-payers' cash on software quality assessment and evaluate the role of agility in Free Software development. In another universe I am the Chairman of the British Computer Society's Open Source Specialist Group. I am /not/ Adriaan de Groot's brother.